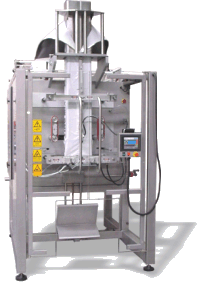 Flexible, general purpose series of Vertical Form Fill Seal Machines.
To produce all sachet styles.
Stainless steel construction as optional.
Colour Touch Screen with context sensitive Help screens.
50 preset product setups.
Highly flexible with double length film draw function as standard.
Vacuum belt draw down as standard.
Can be interfaced with all filling systems such as Liquid filler, Volumetric cup doser, auger or multi head weigher for solids.
All optional accessories available on this series.
FV-1.2
FV-2.2
FV-3.2
FV-4.2
Bag Width
60mm to 250mm
100mm to 350mm
100mm to 450mm
180mm to 600mm
Bag Length
350mm
( 700mm double draw)
450mm
(900mm double draw)
550mm
(1100mm double draw)
850mm
(1400mm double draw)
Max Speed
140 bags per minute
120 bags per minute
120 bags per minute
50 bags per minute